12-09-2014, 09:01 PM,
CocoPops
My Garage
Honorary ///Member


Posts: 2 062
Likes Given: 170
Likes Received: 1 799 in 764 posts
Joined: Jan 2011
Reputation: 22
BMWFanatics Clarens 2014!
---
Wow, a week on and the memories are as fresh as if it happened yesterday, yes, that was the effect of the BMWFantics Clarens run 2014!
Shew, where to start, lets go back to what we were trying to achieve, getting our 2 biggest provinces to have a single meet-up together, share the stories from across South Africa in one location, since we don't do that in person, the idea of Clarens emerged as the ideal solution, a mid way point between the 2 provinces, a beautiful beautiful location with some amazing roads to enjoy our cars, and a serene guest lodge to relax for the night before doing it all over the next day.
To try and give you a brief summary of the events (of which I will fail woefully) is as follows, Gauteng and KZN convoys rolled out at 9am, with some spirited driving along the way, both arrived at the designated meet up spot for lunch which was Harrismith where Nandos and Wrap it up was on the menu. After being well fuelled (and fed) we departed at 1pm as a single BMWFanatics convoy through to the Golden Gate hotel.
We merged onto the highway like something out of transformers, all these amazing machines on the road, determined to get to their location. The journey was approximately 70km on some really amazing roads which were quite deserted, and a beautiful back drop of scenery, breath taking.
We entered into the national park and stopped for a number of photo shoots while admiring the beauty the landscape offered, it really was something, man and machine in natures perfect setting.
After getting to the resort and settling in, we setup our braai and grouped all our furniture together, making a great atmosphere for us to relax and bond over some lekker food, great company and a rather large mountain in front of us. Supper eventually finished around 8-30ish and it was time for the first half of the hampers generously donated by Fuzz, Crazy detailer and Ice-chilli designs who sponsored cleaning kits, specially made Key rings engraved with the BMW fanatics logo and license disk holders with the same design as well.
After that was done the night eventually started to wind down around 1-30am by when most of us headed to bed. Fast forward to 7ish the following morning everyone enjoyed a hearty meal together reflecting on the previous nights antics, breakfast done, we held the lucky draws for the other vouchers offered by our generous sponsors namely, AXIS Engineered, OCD Detailing, Ice Chilli designs, Crazy Detailer, Fuzz Detailing and a private benefactor. We closed with the vote of thanks to everyone that attended followed by a group picture that was taken by all present.
We headed back to the Engen Bergview to get a quick bite and also say goodbye to our brothers from KZN and G, feeling sad that the trip flew by so quickly we departed for the long journey back home, every single one of us thinking earnestly about Clarens 2015.
It was a fantastic weekend, a huge thank you to all the organisers and all that attended, it truly was a trip I suspect will not be matched easily and will remain with us forever, we truly became brothers.
BMWFanatics @ Clarens 2014! Thank you for the memories!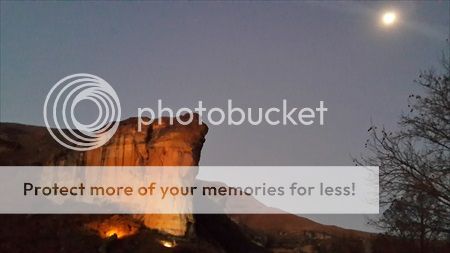 Thread - Click Click
BMW Power.
---
Users browsing this thread:
1 Guest(s)
Return to Top